A brief, global history of microsimulation models in health: Past applications, lessons learned and future directions
Cite

this article

as: D. J Schofield, M. JB Zeppel, O. Tan, S. Lymer, M. M Cunich, R. N Shrestha; 2018; A brief, global history of microsimulation models in health: Past applications, lessons learned and future directions; International Journal of Microsimulation; 11(1); 97-142.

doi: 10.34196/ijm.00175
This review discusses the evolution of microsimulation models in health over the past three decades. We focus on three aspects of health microsimulation. First, we describe the origins and applications of health microsimulation, including how early research challenged early methodologies and led to the development of more rigorous models. We describe limitations of early means-based models and how more detailed methods, which are based on health-specific input data, overcame many of the early data shortfalls and assumptions. Second, we discuss the global expansion of applications of microsimulation to health over the last ten years. Many health microsimulation models have focussed on health expenditure, the ageing population, diabetes, mortality modelling, and spatial models. Health models over the past few decades have expanded to many countries including Canada, Africa, the United States, the UK, Sweden, the Netherlands, New Zealand and Australia. Finally, we describe future developments, including emerging research fields for microsimulation and health and how the early development of health microsimulation models provides important lessons for emerging applications. These include the emerging field of genomics and precision medicine, and the diagnosis and treatment of childhood cancers and rare diseases. We suggest research directions, including the need for good data to avoid model errors, and highlight some pitfalls to avoid.
Microsimulation models can be used to address a wide range of research questions, including simulating life histories to estimate the effects of interventions or policies at a population scale, or test the impact of health policy on a population (Brown, 2011; Rutter, Zaslavsky, & Feuer, 2011). Increased demand by policy makers for detailed projections of long-term health systems, combined with new research paradigms focussing on individuals in addition to improved computing power and data availability means microsimulation has been experiencing an expansion in use. Static microsimulation models are well established, and dynamic microsimulation models are increasingly being used to inform health policy (Spielauer, 2011). Previous reviews have focussed on how microsimulation may inform health policy to 2010 (Rutter et al., 2011), and more general applications of microsimulation to the field of social sciences (Spielauer, 2011). In contrast, this review focuses on the history of health microsimulation, from 1970 onwards, specific health model types and applications from 2007 to 2017, and future research directions, including genomic medicine, and lessons learned which we may apply in future microsimulation.
In this paper, we describe the overall trends in health microsimulation models starting from when microsimulation was applied in health research for the first time in the 1970s to the recent time, discussing the early challenges that were overcome to develop robust models and the modern applications in health modelling. We then discuss the future challenges and key research directions, and what can be learned from the early development of health applications of microsimulation to advance current developments of the field and overcome significant pitfalls.
In order to find the scientific literature on the application of microsimulation in health research, we used "microsimulation" as a keyword search in PubMed1, a search engine with access to more than 28 million citations for biomedical literature from MEDLINE, life science journals, and online books. PubMed is a search engine for medical literature and therefore using 'health' or 'medical' as a search term was deemed unnecessary. The search returned 788 articles and the first article as indexed by PubMed was published in 1972. We draw key examples from this literature to describe the developments of microsimulation applied to health from the 1970s and 1980s to the present.
2. Origins and applications of health microsimulation
2.1 First application of microsimulation of health
It took almost 15 years, since the development of the first microsimulation model in 1957 (Orcutt, 1957), to apply microsimulation modelling in health research. Early health microsimulation models from the 1970s imputed Egyptian data (Khalifa, 1972), while using a US dynamic microsimulation model POPREP to study the effects of five different methods of family planning on the rate of conception (Mustafa, 1973).
There were only a few health microsimulation models reported in the 1970s, although there was a rapid increase in the number of studies using microsimulation models in health between 1980 and 1990, with applications becoming remarkably diverse (Table 1). There were about 15 health microsimulation models reported between 1975 and 1990 (Figure 1). These early models were generally static models rather than dynamic models, unlike the Egyptian population models from the 1970s.2 Models from 1975 to 1990 mostly focussed on topics such as fertility (Roy, 1984; Santow, 1978), breastfeeding and fertility (Kono, Hirosima, Watanabe, Takahashi, & Kaneko, 1983) health insurance provided by employers (Chernick, Holmer, & Weinberg, 1987; Rossiter & Wilensky, 1978), cancer screening (Parkin, 1985) and the screening of other diseases (Habbema, van Oortmarssen, Lubbe, & van der Maas, 1985). Other types of models developed included studies on the transmission and treatment of vector-borne diseases, based on the life history of humans and the vector, such as a flying insect for river blindness disease (onchocerciasis) (Plaisier, van Oortmarssen, Habbema, Remme, & Alley, 1990). Another model from the 1970s tested the impact of different health policies by simulating the behaviour of individuals and institutions (Yett, Drabek, Intriligator, & Kimbell, 1975). Many of these early models used national census data, which were generally the most readily available data in the 1970s to 80s, combined with some survey data such as breast-feeding and fertility surveys (Table 1). In addition, some disease-specific models were based on more health-specific published clinical data on disease progression, such as those on cervical carcinoma (Parkin, 1985).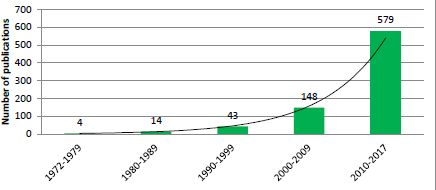 Testing the robustness and assumptions of underlying models has always been a key step in the development of microsimulation models, which were commonly undertaken by comparing predictions against observed results (Habbema et al., 1985; Parkin, 1985). The success in developing early models in this period led to more sophisticated health models. With the realisation of their usefulness in health policy settings and with more available data, the number of microsimulation models in health started to increase (Figure 1).
2.2 Towards greater rigor: challenges overcome in the 1990s
The 1990s was a period of rapid expansion and a move to robust purpose-built health models with many focussing on health benefits and expenditure. However, the primary method was a "means-based approach", also known as a cell-based method, within an existing static microsimulation model developed for other purposes (National Research Council, 1991). This was a serious and pervasive limitation of many of the models commonly used in this period. This is not to say that there were no other types of models developed during this period, for example, Wolfson reported on the development of POHEM, a longitudinal model of health and disease (Wolfson, 1994). However, the wider field had yet to develop and accept a rigorous approach such as that typically used for tax-benefit models of that era. In this section we focus on the challenges of this period as it serves as an important illustration of how new developments can entrench simplistic and erroneous methods and the importance of continued development of the field, with lessons that are critical to the continued development of health microsimulation in the 21st century (see Section 4). Typically means-based models relied on average health service usage data for particular population sub-groups and data on the average subsidy per service, to derive a value for benefits-in-kind for each individual unit in the model. Some of the means-based models are illustrated in (Australian Bureau of Statistics, 1987, 1992; Central Statistics Office, 1992; Economic Planning and Advisory Committee, 1987; Evandrou, Falkingham, Grand, & Winter, 1992; Ann Harding, 1984; Johnson, Manning, & Hellwig, 1995; Statistics New Zealand, 1990). The failure of the means- based approach to take into account many important predictive variables led some authors to suggest that they were likely to produce questionable distributional results (Cameron & Wolfson, 1994; Evandrou, Falkingham, Hills, & Le Grand, 1992). In fact, it became common to preface an analysis of the distribution of health benefits from these models with a disclaimer, such as that given by Statistics New Zealand (1990) who stated that their means-based simulation was a "very approximate" method, and that "different assumptions could produce quite different results". It was suggested that the distribution of health benefits was in fact more progressive, that is, skewed towards the poor, than the means-based models had suggested (Johnson et al., 1995; Schofield, 1998a, 1998b).
Another major limitation of means-based models was the failure to identify that health service usages vary markedly between persons within the (usually large) mean groupings, leading to errors. Cameron and Wolfson (1994) questioned the method of assigning an equal benefit to all individuals within the same group (usually defined by age group and sex), whether or not the benefits are actually used. Johnson et al. (1995) demonstrated in their simulation of health benefits under the means-based approach that the value of the expenditure will be spread across everyone who is eligible for free medical treatment when only a small proportion of people will actually use the services, but those few will derive a much greater value from it. Consequently, health expenditures were under-estimated for people who were high users of the public health system, but overestimated for low users.
A number of authors challenged the means-based models and developed purpose-built health microsimulation models with more detailed methods during the 1990s. Cameron and Wolfson (1994) from Statistics Canada developed an alternative model to their means-based model which used regression equations to impute the use of hospital and physician services. Cameron and Wolfson (1994) reported that the 'detailed method' produced a distribution of health benefits that was more progressive than their means-based model.
Schofield (1998a, 1998b) developed two detailed microsimulation models using individual unit record data from the Australian National Health Survey as a base population and imputed health expenditure at the individual level based on the cost and subsidy of each service used in these models. When results from both models were compared, the detailed approach was found to be markedly more pro-poor than the comparator means-based models in modelling the previously published results from earlier means based models in terms of the distribution of expenditure on the Pharmaceutical Benefits Scheme (PBS) and of hospital expenditure. This work laid the foundations for future lifetime analysis of health expenditure (Harding, Percival, Schofield, & Walker, 2002).
Similarly, the United Kingdom's Central Statistical Office had developed an alternative more detailed health model using the General Household Survey which included information on the use of health services. The outputs of this model were then compared to their means-based model which imputed health service use. The authors reported that the detailed health model produced results which were less progressive (that is, less skewed towards the poor) than the means-based model (Evandrou, Falkingham, Grand, et al., 1992; Evandrou, Falkingham, Hills, et al., 1992). This was in direct contrast to the findings of the Australian and Canadian studies which found that their simulated distribution of health benefits was more progressive (Evandrou, Falkingham, Grand, et al., 1992), suggesting that more rigorous approaches might have a different impact on the results for different countries.
3. Modern applications of microsimulation in health modelling – 2007 to present
Microsimulation is a field with a strong international community, with colleagues sharing their knowledge and skills since its inception. This is reflected in the spread of the applications of microsimulation in health, from countries with the most intense microsimulation development (Canada, Australia, New Zealand, the UK, the US and Western European countries) to every populated continent including Africa, Asia and South America (Figure 2).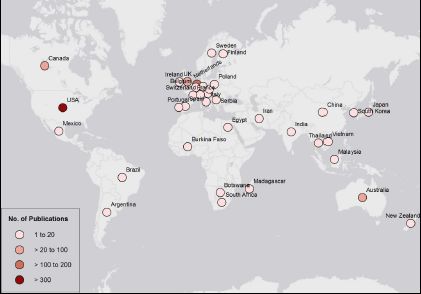 There has been a rapid proliferation of different types of applications of microsimulation modelling to health (Appendix A.1), with an ever-increasing diversity of use. This is demonstrated by changes in Medical Subject Heading (MeSH) codes frequently used in microsimulation and health papers, sourced from our literature search in PubMed (Figure 3). Some of the key areas of health microsimulation development are summarised below.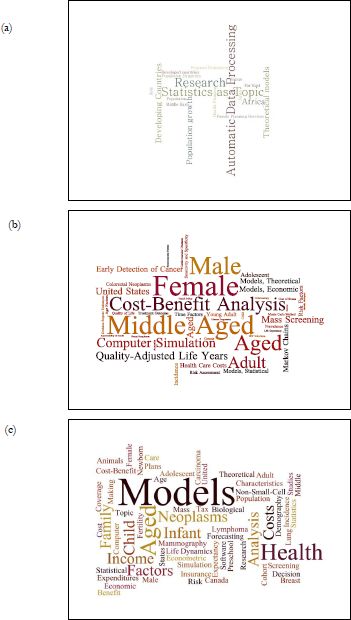 Health microsimulation models often now use National Health Surveys, Census data, disease registry data and sometimes other published data and primary data collections from clinical studies (see Appendix A.1). We note the importance of the move to individual record health data in Section 2.2 on means-based models.
4. Where do we see health microsimulation going? – "Back to the future"
We started this review with the first studies using microsimulation to quantify effects of family planning in 1972–1973. Interestingly, family planning and some of the technical issues, such as the need for relevant health data related to that first model are important and very relevant again in 2018 for the newest applications of microsimulation. Recent applications, including genomic testing and precision medicine, particularly need detailed high quality data to reflect the genetic diversity of the population, with important applications to family planning. Genomics is an emerging field of clinical medicine rapidly redefining our understanding of the cause of human disease (Council of Australian Governments, 2017; Lindor, Thibodeau, & Burke, 2017). Many disorders currently treated as a single condition, are in fact made up of very different disorders with different molecular causes, and thus require different treatments.
Genomic medicine has been recognised as an important new health technology across the world (Felsenstein & Theodorescu, 2018; Vignot et al., 2018; Williamson et al., 2018). The remarkable steps forward from current practice which can be made with precision medicine were recognized by the House of Lords Science and Technology Committee in their report to British Parliament on Genomic Medicine (House of Lords Science and Technology Committee, 2009, p. 5):
"Every so often a scientific advance offers new opportunities for making real advances in medical care. From the evidence given to this inquiry, we believe that the sequencing of the human genome, and the knowledge and technological advances that accompanied this landmark achievement, represent such an advance".
Further, the United Kingdom's 100,000 Genomes Program, together with Genome England, aims to sequence genomes from 100,000 patients from the National Health Service, and that whole-genome sequencing will become routine clinical practice (Samuel & Farsides, 2018). Similarly, in March 2018, the Health Minister of Australia announced an investment of tens of millions of dollars, for preconception carrier screening for couples to assess the risk of having a child with a severe genetic disorder (Scott & Armitage, 2018).
Genomics requires a form of modelling that can capture these individual genetic differences and responses to therapy – a purpose to which microsimulation is eminently suited. Conversely, the risk of using aggregate models of grouped diseases with crude averaged impacts as inputs can produce highly erroneous results, further confounded if based on assumptions rather than the quality of data microsimulation models typically reply upon (Doble, Schofield, Roscioli, & Mattick, 2016, 2017). A diagnosis of many of these conditions also provides families with information important in family planning (Ghiossi, Goldberg, Haque, Lazarin, & Wong, 2018). Microsimulation may be used to model cost-effectiveness of techniques such as prenatal and pre-implantation genetic diagnosis.3
4.1 Why we need good genomic medicine data
It is important to note that, in order to produce robust, credible and accurate model results, we will need good quality genomic data (which often currently requires primary data collection given the current paucity of relevant data, inevitable for conditions which could not until very recently be diagnosed). This was a lesson previously learned in the 1990s during the move from means-based models that relied on aggregate health data imputed onto other models. These means-based models led to faulty conclusions. This prompted the development of purpose built health models, using specific health microdata. We have once again seen the types of errors that the earlier approaches produced in the emerging field of genomic medicine.
For example, a study on precision medicine, and how it may impact global health, proposed that the identification of genomic variants in major complex diseases would lead to change of health-related behaviours, resulting in 10–50% reduction in disease incidence (Dzau, Ginsburg, van Nuys, Agus, & Goldman, 2015). However, the aggregated assumptions in the study by Dzau et al. (2015), namely, that knowledge of a genetic condition would lead to marked behavioural change followed by an assumed large average reduction in the incidence of disease, have been shown to be unsupported by evidence (Doble et al., 2016). A Cochrane review (Marteau et al., 2010) showed that after receiving information about genetic risk, there was no evidence of incremental behavioural changes in patients. Thus, the assumptions in the Dzau et al. (2015) paper led to unfounded conclusions. For any modelling study to be robust, the input data, model assumptions and model structure need to be relevant (McLay, Lay-Yee, Milne, & Davis, 2015), evidence-based, robust, timely and capture the distributional impacts. This example highlights the need for quality data to be used in relation to genomic testing and precision medicine and microsimulation. Notably, van Gestel et al. (2012) comment that a lack of high-quality data on costs and health outcomes is the major reason why there is no clear evidence of the value of personalized medicine in terms of cost-effectiveness, a conclusion similar to that of previous authors (von Randow, Davis, Lay-Yee, & Pearson, 2012). Once again, the need for high quality individual based micro-data is a critical issue for current developments in health applications of microsimulation.
4.2 Genomics and precision medicine: the new frontier for microsimulation
There are also rapidly developing uses of microsimulation in relation to cancer and genomic medicine to model colorectal cancer (Barzi, Sadeghi, Kattan, & Meropol, 2015), lung cancer (Han, Erdogan, Toumazis, Leung, & Plevritis, 2017; Sheehan, Criss, Gazelle, Pandharipande, & Kong, 2017), melanoma (van der Meijde et al., 2016) and childhood cancer (see next paragraph). Rapid improvements in immunotherapy treatment of melanoma provide promising, targeted treatment which may be used when a specific mutation is observed in patients (Holay, Kim, Lee, & Gujar, 2017) with improvements in precision medicine leading to the development of clinical trials (Tannock & Hickman, 2016). One recent study from the Netherlands used microsimulation to simulate the cost-effectiveness of new treatments of melanoma (van der Meijde et al., 2016). The authors used microsimulation to quantify the cost-effectiveness of individualized cancer care, based on the progress of melanoma, using a description of underlying tumour growth, as well as interactions with diagnostics, treatments and surveillance (van der Meijde et al., 2016).
An emerging area of precision medicine is the improved diagnosis and treatment of childhood cancers (Worst et al., 2016). The low numbers of childhood cancer patients mean that cost-effectiveness studies of precision medicine in childhood cancer, compared with adult cancer, are rare. However, improvements in sequencing techniques mean that precision medicine in childhood cancer is rapidly advancing (Worst et al., 2016). Although the costs of childhood cancer have been quantified (Heath, Lintuuran, Rigguto, Tikotlian, & McCarthy, 2006; Wakefield, McLoone, Evans, Ellis, & Cohn, 2014), the costs and benefits of precision medicine have not yet been modelled. Very few studies (none to our knowledge) have analysed the cost-effectiveness of standardised treatment of childhood cancer, let alone compared precision medicine with standardised treatment, with the costs of precision medicine, using microsimulation, in fact there are few cost-effectiveness studies of the next generation sequencing in cancer (Tan, Shrestha, Cunich, & Schofield, 2018).
Microsimulation models of the application of genomic testing and precision medicine to childhood cancer will be highly valuable to determine which treatments are efficient uses of national health resources. One such model currently under development is Paediatric Cancer Model (PECANMOD).4 The model utilises data from cancer registry and hospital admission data in New South Wales, Australia to simulate events of childhood cancer from the onset (or earliest detectable stage), simulating expected life years, and hospital costs. The model will then be used to simulate the impact of precision medicine on total costs and expected life years.
4.3 Genomic testing, serious childhood illness and disability
Very recently a number of models based on primary data collected from genetics clinics have been developed to assess the cost-effectiveness of whole-exome and whole-genome testing, and subsequent changes in clinical management in terms of cost and health outcomes of the child, and reproductive planning and recurrence of the disorder in related families. The main challenges for these studies were the lack of data about the conditions and their natural history (since many of the conditions and their genetic cause had only recently been discovered), the heterogeneity of the sample (with many different genetic variants leading to the condition), the lack of administrative cost data, and the large scope of costs related to the disorders both within the health system and other sectors of government (for instance employment, welfare, education, residential care, community services, disability services). The data limitations require not only the use of health data as the base population for the models, but also extensive primary data collection, such as for the development of IDGenMod to simulate the impacts of whole-genome sequencing for familial intellectual disability in the EPIC-ID Study.5 Early publications from microsimulation models related to genomic testing and childhood syndromes models are already proving important in applications for public funding for genomic testing (Ewans et al., 2018; Palmer et al., 2018; Schofield, Alam, et al., 2017; Stark et al., 2017; Tan et al., 2017).
4.4 Methodological development and challenges
The collection of health data is growing in sample size and complexity, especially in the era of genomic medicine. Fortunately, with the significant improvement in computing power, we are able to employ sophisticated microsimulation modelling to health data. In addition, future microsimulation models also may involve advanced methods of model calibration such as Bayesian computation or parallel computation for probabilistic sensitivity analysis.
One of the challenges of sharing model development, which is not unique to health microsimulation, is that there is no commonly agreed-upon language in microsimulation modelling. However, increasingly some models are being published online, as Open Access. Some recent models which provide open-access code for their models to be shared include OpenM++ (https://ompp.sourceforge.io/), CMOST, a microsimulation model of colorectal cancer (Prakash et al., 2017) and JAS-mine, which can be applied to numerous purposes, such as labour modelling or health inequality modelling (Richiardi & Richardson, 2017).
From its infancy about 40 years ago, there has been a proliferation of microsimulation applications to health. Remarkably, the first recorded model was an ambitious collaboration between Egypt and the USA to model family planning as an expanded version of a dynamic population model. Microsimulation applications increased rapidly in the 1990s but were often simple cell-based approaches imputed onto established models designed for other purposes. These models were criticised for not having the benefits of unit record health data and the capacity for distributional analysis that distinguished tax-benefit microsimulation models. To overcome this limitation, later models began to be developed with health survey data as their base population. The use of health data as the primary data source is now an accepted convention, with some models even being based on the collection of new primary data specific to the application, where appropriate survey data is not available.
Over the last ten years, we have seen health become one of the most diverse and sophisticated applications of microsimulation. The most recent applications of microsimulation are being applied to the newest frontiers of medicine, such as genomic testing and personalised medicine. These new frontiers of science and medicine are likely to propel the development of health applications of microsimulation for decades to come. However early developments in this field relied on aggregate data and assumptions rather than on quality data with the inevitable product of flawed results. Thus the lessons of the 1990s serve as a timely reminder of the importance of rigorous methods and high quality, relevant microdata in this field.
Dynamic models allow individuals to change their characteristics over time, yet require more data and are more computationally intensive (Li et al., 2014). On the other hand, static models, often known as models that simulate the day after impact of a policy changes ignore changes to behaviour due to policy.
Pre-implantation genetic diagnosis (PGD) is one of the various options available to couples with a high risk of transmitting a monogenic inherited disorder, or structural chromosomal variant to their prospective offspring (Hehr et al., 2014).
Tan, Schofield, Shrestha, and Lymer: NSW HREC Reference No: HREC/17/CIPHS/7.
Schofield et al.: NSW HREC Reference No: HREC/16/HNE/309; NHMRC Partnership Project: APP1113895).
1

Extended and standard duration weight-loss programme referrals for adults in primary care (WRAP): a randomised controlled trial

Lancet 789:2214–2225.

2

Household Expenditure Survey, Australia: the effects of Government Benefits and Taxis on Household Income, 1984

Household Expenditure Survey, Australia: the effects of Government Benefits and Taxis on Household Income, 1984, Canberra.

3

Household Expenditure Survey, Australia: the Effects of Government Benefits and Taxes on Household Income, 1988-89

Household Expenditure Survey, Australia: the Effects of Government Benefits and Taxes on Household Income, 1988-89, Canberra.

4

5

"Conditional scholarships" for HIV/AIDS health workers: educating and retaining the workforce to provide antiretroviral treatment in subSaharan Africa

Social Science & Medicine 68:544–551.

6

7

Assessing the cost-effectiveness of drug and lifestyle intervention following opportunistic screening for pre-diabetes in primary care

Diabetologia 57:875–881.

8

Multistate Statistical Modeling: A Tool to Build a Lung Cancer Microsimulation Model That Includes Parameter Uncertainty and Patient Heterogeneity

Medical Decision Making: An International Journal of the Society for Medical Decision Making 76:86–100.

9

10

Editorial Special Issue on "Health and Microsimulation."

International Journal of Microsimulation 4:1–2.

11

3.0 User and Technical Documentation

CORSIM, 3.0 User and Technical Documentation, Cornell University.

12

Missing Transfers: Adjusting Household incomes for Noncash Benefits

In 23rd General Conference of the International Association for Research in Income and Wealth.

13

SimAlba: A Spatial Microsimulation Approach to the Analysis of Health Inequalities

Frontiers in Public Health 4:230.

14

15

The long-term productivity impacts of all cause premature mortality in Australia

Australian and New Zealand Journal of Public Health 41:137–143.

16

Mathematical models for HIV transmission dynamics: tools for social and behavioral science research

Journal of Acquired Immune Deficiency Syndromes (1999) 47:S34–9.

17

18

The Effects of Taxes and Benefits on Household Income, 1989

The Effects of Taxes and Benefits on Household Income, 1989.

19

Tax policy toward health insurance and the demand for medical services

Journal of Health Economics 6:1–25.

20

A model to estimate the lifetime health outcomes of patients with Type 2 diabetes: the United Kingdom Prospective Diabetes Study (UKPDS) Outcomes Model (UKPDS No. 68)

Diabetologia 47:1747–1759.

21

Using the Cancer Risk Management Model to evaluate colorectal cancer screening options for Canada

Current Oncology (Toronto, Ont.) 22:e41–50.

22

23

Quantitative interpretation of age-specific mortality reductions from the Swedish breast cancer-screening trials

Journal of the National Cancer Institute 87:1217–1223.

24

A Simulation Model for Bioterrorism Preparedness in Urban Areas

In: CA Brebbia, F Garzia, M Guarascio, editors. Safety and security engineering III. WIT Press. pp. 281–291.

25

The promise of personalised medicine

The Lancet 387:433–434.

26

Prioritising the application of genomic medicine

NPJ Genomic Medicine 2:35.

27

Lead times and overdetection due to prostate-specific antigen screening: Estimates from the European randomized study of screening for prostate cancer

Journal of the National Cancer Institute 75:868–878.

28

Aligning incentives to fulfil the promise of personalised medicine

The Lancet 385:2118–2119.

29

Model of complications of NIDDM: I. Model construction and assumptions

Diabetes Care 20:725–734.

30

A Cost-Effectiveness Evaluation of Germline BRCA1 and BRCA2 Testing in UK Women with Ovarian Cancer

Value in Health 20:567–576.

31

Aspects of the Social Wage: A Review of Social Expenditures and Redistribution (Council Paper No. 27)

Aspects of the Social Wage: A Review of Social Expenditures and Redistribution (Council Paper No. 27), Canberra.

32

The design and validation of a spatial microsimulation model of obesogenic environments for children in Leeds, UK: SimObesity

Social Science and Medicine 69:1127–1134.

33

Internal and External Validation of Spatial Microsimulation Models: Small Area Estimates of Adult Obesity

Applied Spatial Analysis and Policy 4:281–300.

34

Equity in Health and Social Care

Journal of Social Policy 21:489.

35

The Distribution of Welfare Benefits In Kind (Welfare State Programs, Discussion Paper No. 068)

London School of Economics.

36

Canadian Cancer Risk Management Model: evaluation of cancer control

International Journal of Technology Assessment in Health Care 29:131–139.

37

38

Precision medicine for urothelial bladder cancer: update on tumour genomics and immunotherapy

Nature Reviews. Urology 15:92–111.

39

SESIM: A Swedish Micro-Simulation Model

In: A Klevmarken, B Lindgren, editors. Simulating an Ageing Population: A Microsimulation Approach Applied to Sweden (Contributions to Economic Analysis, Volume 285). Emerald Group Publishing Limited. pp. 55–83.

40

Cost-utility analysis of liraglutide versus glimepiride as addon to metformin in type 2 diabetes patients in China

International Journal of Technology Assessment in Health Care 28:436–444.

41

Clinical Utility of Expanded Carrier Screening: Reproductive Behaviors of At-Risk Couples

Journal of Genetic Counseling 27:616–625.

42

Cost-effectiveness of Lung Cancer Screening in Canada

JAMA Oncology 1:807–813.

43

Modeling human papillomavirus and cervical cancer in the United States for analyses of screening and vaccination

Population Health Metrics 5:11.

44

Benefits and costs of screening Ashkenazi Jewish women for BRCA1 and BRCA2

Journal of Clinical Oncology 17:494–500.

45

The MISCAN simulation program for the evaluation of screening for disease

Computer Methods and Programs in Biomedicine 20:79–93.

46

Evaluating the impact of varied compliance to lung cancer screening recommendations using a microsimulation model

Cancer Causes & Control: CCC 28:947–958.

47

Who benefits?: the Australian welfare state and redistribution

University of NSW.

48

The Lifetime Distributional Impact of Government Health Outlays

Australian Economic Review 35:363–379.

49

50

Childhood Cancer: Its Impact and Financial Costs for Australian Families

Pediatric Hematology and Oncology 23:439–448.

51

Praimplantationsdiagnostik

Medifnische Genetik 26:417–426.

52

The Population Health Model (POHEM): an overview of rationale, methods and applications

Population Health Metrics 13:24.

53

Development of a population-based microsimulation model of body mass index

Health Reports 28:20–30.

54

Development and validation of a Markov microsimulation model for the economic evaluation of treatments in osteoporosis

Value in Health: The Journal of the International Society for Pharmacoeconomics and Outcomes Research 12:687–696.

55

Sharpening the Edge for Precision Cancer Immunotherapy: Targeting Tumor Antigens through Oncolytic Vaccines

Frontiers in Immunology 8:800.

56

Genomic Medicine

Genomic Medicine, London.

57

58

Trends in the Distribution of Cash Income and Non Cash Benefits: an Overview. Report to the Prime Minister and Cabinet

Canberra: AGPS.

59

Brookings/ICF Long-Term Care Financing Model: Model Assumptions. Report Office of the Assistan Secretary for Planning and Evaluation

U.S.: Department of Health and Human Services.

60

Towards a computerized demographic microsimulation model for Egypt: experimentation of POPSIM: 1

The Egyptian Population and Family Planning Review 5:153–166.

61

62

Using simulated data to investigate the spatial patterns of obesity prevalence at the census tract level in metropolitan Detroit

Applied Geography 62:19–28.

63

A bio-demographic analysis of Japanese fertility via micro-simulation

Jinko Mondai Kenkyu. Journal of Population Problems pp. 1–29.

64

65

Breast cancer screening in BRCA1 mutation carriers: effectiveness of MR imaging - Markov Monte Carlo decision analysis

Radiology 246:763–771.

66

67

Dynamic Models

Handbook of Microsimulation Modelling 293:305–343.

68

Whole-Genome Sequencing in Healthy People

Mayo Clinic Proceedings 92:159–172.

69

Measuring the Population Impact of Introducing Stereotactic Ablative Radiotherapy for Stage I Non-Small Cell Lung Cancer in Canada

Oncologist 19:880–885.

70

Developing a Dynamic Microsimulation Model of the Australian Health System: A Means to Explore Impacts of Obesity over the Next 50 Years

Epidemiology Research International pp. 1–13.

71

Predicting The Need For Aged Care Services At The Small Area Level: The CAREMOD Spatial Microsimulation Model

International Journal of Microsimulation 2:27–42.

72

NCDMod: A microsimulation model projecting chronic disease and risk factors for Australian adults

International Journal of Microsimulation 9:103–139.

73

Features and Added Value of Simulation Models Using Different Modelling Approaches Supporting Policy-Making: A Comparative Analysis

Policy Practice and Digital Science: Integrating Complex Systems, Social Simulation and Public Administration in Policy Research pp. 95–123.

74

Projections of preventable risks for cardiovascular disease in Canada to 2021: a microsimulation modelling approach

CMAJ Open 2:E94–E101.

75

76

Evaluation of the costs and outcomes from changes in risk factors in type 2 diabetes using the Cardiff stochastic simulation cost-utility model (DiabForecaster)

Current Medical Research and Opinion 22:121–129.

77

Regression-Style Models for Parameter Estimation in Dynamic Microsimulation: An Empirical Performance Assessment

International Journal of Microsimulation 8:83–127.

78

Evaluation of the natural history of cancer of the cervix, implications for prevention. The Cancer Risk Management Model (CRMM) - Human papillomavirus and cervical components

Journal of Cancer Policy 4:1–6.

79

A small area estimation model of comorbidity for England

The Lancet 388:S80.

80

Fecundability Differentials Among Acceptors and Non-Acceptors of Family Planning. A Simulation Experiment

Fecundability Differentials Among Acceptors and Non-Acceptors of Family Planning. A Simulation Experiment, Duke, Chapel Hill, North Carolina.

81

82

Mammographic screening in BRCA1 mutation carriers postponed until age 40: Evaluation of benefits, costs and radiation risks using models

European Journal of Cancer 63:135–142.

83

84

Policy exploration through microanalytic simulation

Urban Institute.

85

The CORE Diabetes Model: Projecting long-term clinical outcomes, costs and cost-effectiveness of interventions in diabetes mellitus (types 1 and 2) to support clinical and reimbursement decision-making

Current Medical Research and Opinion 20:S5–26.

86

Integrating exome sequencing into a diagnostic pathway for epileptic encephalopathy: Evidence of clinical utility and cost effectiveness

Molecular Genetics & Genomic Medicine 6:186–199.

87

Validation of the CORE Diabetes Model Against Epidemiological and Clinical Studies

Current Medical Research and Opinion 20:S27–S40.

88

A computer simulation model for the practical planning of cervical cancer screening programmes

British Journal of Cancer 51:551–568.

89

Is prostate cancer screening cost-effective? A microsimulation model of prostate-specific antigen-based screening for British Columbia, Canada

International Journal of Cancer 135:939–947.

90

STINMOD (Static Income Model)

In: A Gupta, A Harding, editors. Modelling Our Future: Population Ageing Health and Aged care. Elsevier. pp. 477–482.

91

ONCHOSIM: a model and computer simulation program for the transmission and control of onchocerciasis

Computer Methods and Programs in Biomedicine 31:43–56.

92

Using the Cancer Risk Management Model to evaluate the health and economic impacts of cytology compared with human papillomavirus DNA testing for primary cervical cancer screening in Canada

Current Oncology (Toronto, Ont.) 23:S56–63.

93

94

95

JAS-mine: A new platform for microsimulation and agent-based modelling

International Journal of Microsimulation 10:106–134.

96

Generating small-area prevalence of psychological distress and alcohol consumption: validation of a spatial microsimulation method

Social Psychiatry and Psychiatric Epidemiology 47:745–755.

97

National health insurance microsimulation: The supply response

Paper presented at the Southern Economic Association Meetings.

98

Demography of sterilization: Indian experience

Janasamkhya 2:51–65.

99

Dynamic microsimulation models for health outcomes: a review

Medical Decision Making 31:10–18.

100

Genomics England's implementation of its public engagement strategy: blurred boundaries between engagement for the United Kingdom's 100,000 Genomes project and the need for public support

Public Understanding of Science 27:352–364.

101

Economic evaluation of influenza pandemic mitigation strategies in the United States using a stochastic microsimulation transmission model

Value in Health: The Journal of the International Society for Pharmacoeconomics and Outcomes Research 12:226–233.

102

A microsimulation of Yoruba fertility

Mathematical Biosciences 42:93–117.

103

104

Monetising the provision of informal long-term care by elderly people: estimates for European out-of-home caregivers based on the well-being valuation method

Health and Social Care in the Community 24:E81–E91.

105

Public Expenditure on Hospitals: Measuring the Distributional Impact

Public Expenditure on Hospitals: Measuring the Distributional Impact, No. 37, University of. Canberra.

106

Re-examining the distribution of health benefils in Australia - who benefits from the pharmaceutical benefits scheme?

Re-examining the distribution of health benefils in Australia - who benefits from the pharmaceutical benefits scheme?, No. 36, University of Canberra.

107

Cost-effectiveness of massively parallel sequencing for diagnosis of paediatric muscle diseases

NPJ Genomic Medicine 2:4.

108

Health Models

In: C O'Donoghue, editors. Handbook of Microsimulation Modelling (Contributions to Economic Analysis, Volume 293). Emerald Group Publishing Limited. pp. 421–447.

109

The Financial Vulnerability of Individuals with Diabetes

The British Journal of Diabetes & Vascular Disease 10:300–304.

110

111

Health & WealthMOD: A Microsimulation Model Of The Economic Impacts Of Diseases On Older Workers

International Journal of Microsimulation 2:58–63.

112

Projections of Commonwealth Health Expenditure in Australia's First Intergenerational Report

In: A Gupta, A Harding, editors. Modelling Our Future: Population Ageing, Health and Aged Care. Elsevier. pp. 149–168.

113

114

115